last few days before Christmas in Aberdeen
Im back in my old haunt from last year today "
Kilau
" Ive not got my USB stick with me so the photos from my old post on
Kilau
and that photo was stolen as well so I guess you'll never quite get my perspective on
Kilau
, but I am enjoying my classic Americano and toasted coronation chicken baguette. Also for the first time enjoying the wifi here!...anyway I did some shopping today in Aberdeen for some last minute Christmas stuff, and then met my cousin who I haven't seen in about 5 years Morwenna Porter. So that was pretty cool, talking about Home, Family and Music.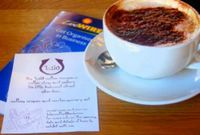 So now Im just hanging out until I go to see
King Kong
with
Closer
youth tonight as a Christmas church nite out! I just bought an album I had heard some of by Bedouin Soundclash called sounding a Mosaic, i saw them live i Arizona this summer, then realized I missed them in Aberdeen, so Im off to see them in Glasgow on the last day of my exams.